Men's Empowerment Conference 2015
"Bent but Not Broken"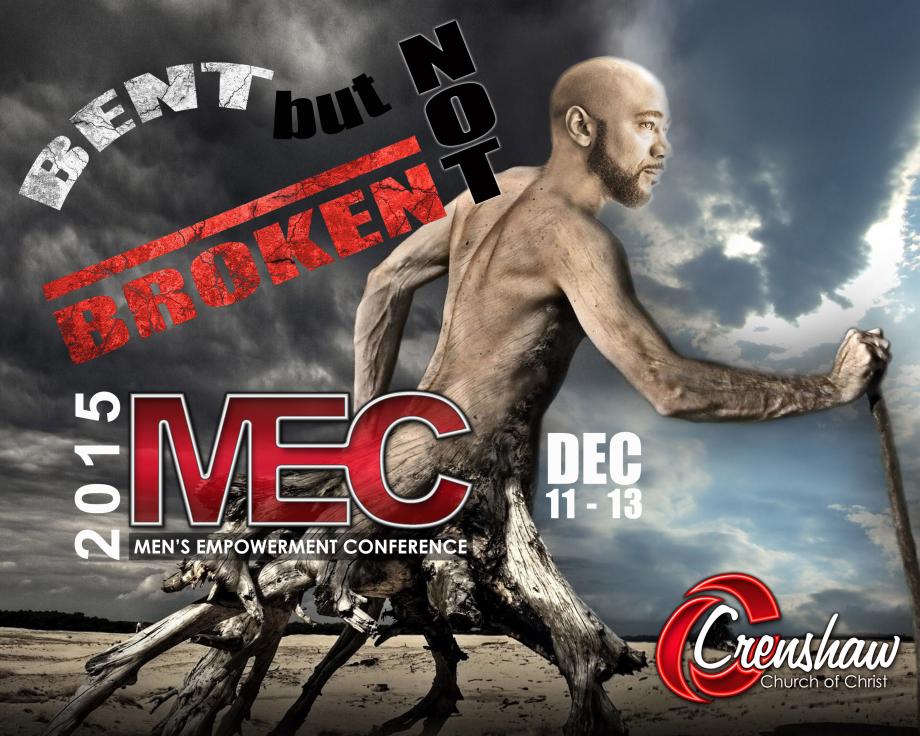 Willard Crigler Jr.

Born in Oklahoma city, raised in Wichita, Ks.
Married in 1973 to the former Ellen Baldwin (35 yrs)
3-Adult children, Keleigh Hadley, Kelvin Crigler, Kristopher Crigler
1-Son in-law, 2-Daughter's in-law
4-Grandchildren
Served in Ministry since 1975
Graduated 1972- Southwestern Christian College
Pepperdine U- 1974 - BA
University of Phoenix – 2000 – MA.
Served as Youth Minister for Normandie - 1977 – 1989
Served as Manager for Cable TV studio -1989- 1995
Served as Family Life Minister Normandie – 1995-1999
Served as Family Life Minister – Reseda - 2000-2003
Served as Associate Minister – Normandie – 2004 - 2008
Served as Interim Minister – Normandie -2008 - 2010
Served as Associate Minister – Normandie 2010-2015
Serve as Interim Minister – Normandie 2015-
Serve as a Director for the California State Youth Conference – 1980 - present
Served as Assistant Director National Youth Conference – 1985-2010
Served as Board Member for Normandie Christian School – 2003-2014
Have conducted numerous family /youth/ marriage seminars,
Favorite passages: Proverbs 3:5-6/Eph.3:20;21/Romans 8:37
Loves Sci-Fi, Carrot cake, and real down to earth people

Fate Hagood, III

After years of doing ministry in a more traditional paradigm, the Lord laid on Fate's heart to do

ministry with more contemporary methodology within the fellowship of the churches of Christ

. Without departing from his restoration roots, he began the Metropolitan congregation with a group of sold out disciples who are willing to do whatever it takes to be a great congregation for Jesus. Fate saw a need to reach out to people which may have been turned off and/or turned away by the customary methodology in some churches of Christ. He is often heard to say, "We are reaching out to those whom others in our fellowship may miss." This movement is not anti-establishment but is instead pro evangelistic. So don't be surprised at the usage of drama, praise teams, immediate prayer, and other methods to help people become fully functioning followers of Christ.

Fate Hagood III was born April 25, 1962 in Birmingham Alabama to Fate Jr. and Irene Hagood. Fate has two younger siblings. Rudy Renard Hagood (brother), and Shatay Deese (sister). He matriculated through elementary, junior high, and high schools in the Compton and Los Angeles Unified School Districts. He graduated from Dominguez High in 1979. Fate received several awards and commendations for art, theater, sports, education, and writing as a young man. Among those were Mr. State and National Youth conference and the G. P. Bowser award for ministerial excellence. He graduated from Southwestern Christian College with a Bachelor Of Arts in Bible/Religious Education and from Cal State Dominguez Hills University with a Certified Professional Teaching Credential. He is presently entered for enrollment at Lubbock Christian University. Fate worked as a public school teacher for 15 years. He also worked as a youth minister, associate minister, pulpit minister, and ministering evangelist.

Fate received his religious training through the teaching, tutelage, and tuning of the Figueroa Church of Christ, Christian schools, and men such as R. N. Hogan (minister/pastor at Figueroa Church of Christ), Calvin Bowers (minister at Figueroa Church of Christ), Kinwood Devore(minister at Metropolitan Church of Christ -San Francisco), Richard Barclay(minister/pastor at Cashmere Gardens Church of Christ), Kenneth Greene(minister at Metropolitan Church of Christ-Dallas), Chuck Ferguson (professor at Bay Area School of Preaching), John Brown (professor at Bay Area School of Preaching), and many others. His greatest inspiration in the Christian walk is his mother,

Irene Hagood

. Fate is married to the spiritually vigorous and vivacious

Mira Alane Hagood

. They were wed on August 16, 1986. They have two children Destiny Alane and Fate IV. Fate loves his family and keeps them as a priority in his life.

Fate's duties are:

Pastoral (Feeding the flock; Counseling with God's Word; Leading And Casting the vision)
Prophetic (Preaching & Teaching)
Priestly (Prayers, Supplication, Worship)

Stanley Harmon, II

A 33-year-old minister married to the Lovely Helice Harmon for 6yrs. He is blessed to have Stanley Harmon III, his 3-year-old son. Stanley Harmon II has been preaching in the ministry for 12 years. Currently he is enrolled at Azusa Pacific University studying Psychology and Pastoral Council. Stanley Harmon II currently serves as an Assistant Minister of Hawthorne Church of Christ. He is just a Servant.

Erinn Harris

Erinn Harris was baptized at the Diane Avenue Church of Christ in Pittsburg California at the age of 13. He started teaching Bible study classes at the age of 16 and began preaching when he was 19. He received a Master's in Christian Ministry from Abilene Christian University and is working on a Master's of Divinity at Pepperdine University. He currently works as an associate minister at the Reseda Church of Christ.

Vincent E. Hawkins

Vincent E. Hawkins has over 30 years of ministerial development and experience in teaching, preaching, counseling, and ministering to families and youth. He has taught at Normandie Christian, Orange County Christian, and Panorama Christian schools. Vincent was also a past part-time instructor at Southern California School of Evangelism in Buena Park.
Vincent is currently involved in missionary efforts in Ethiopia, with past efforts in the Bahamas, Jamaica, Mexico, Nigeria, and South Africa. He has served congregations in the Inland Empire and Los Angeles area and is currently serving as the Ministering Evangelist for the Hawthorne congregation.